North West parks could be sold by cash-strapped councils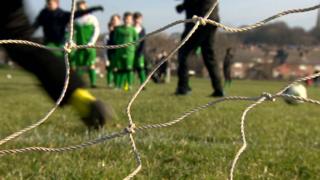 More than half of councils in the North West of England are considering selling parks or finding other organisations to maintain them within the next three years, a BBC investigation has found.
The local authorities claim they are being forced to take these measures to counterbalance government budget cuts.
Knowsley Council says it intends to sell 17 parks and use the money raised to "forever" protect its remaining 144.
Protesters say giving up green space for development is "soul destroying".
The BBC Inside Out North West investigation revealed 60% of local authorities had cut their parks budgets since 2015.
It found 57% were considering selling or handing over responsibility for them and 31% had done so already.
Knowsley Council says selling Brown's Field in Prescot to a housing developer would raise £5m.
Council leader Andy Moorhead said the "very. very difficult decision" to sell off 10% of its parks "would save 144 parks forever".
Explaining the decision, he said: "We've lost £100m out of our budget over the last eight years."
But local resident and campaigner Mandy Roberts called for a rethink, adding: "People are making memories here. It's soul destroying that this would just be one concrete jungle."
Burnley Borough Council's Simon Goff said it has had to "think outside the box" as its parks budget had dropped by 50% since 2010.
Moves include allowing lawns to return to meadow, replacing expensive bedding plants with perennials, and recycling tree cuttings as woodchips for playgrounds.
Volunteers have put in more than 8,000 hours looking after Didsbury Park in Greater Manchester.
Manchester City Council says it "values" and "wants to work" with community groups.
In Liverpool there have been protests against housing on green spaces such as Sefton Park Meadows.
Liverpool City Council is set to charge for events in parks, while tour guides and personal trainers will have to buy permits.
Cabinet member Steve Munby defended the move, saying the council paid roughly £3m a year to maintain parks.
He said: "After 2020, government funding stops. If we want our parks, we are going to have to pay for them."
See more on this issue on Inside Out North West on regional BBC One on Monday at 19:30 GMT or on iPlayer shortly thereafter