Mayor resigns after insulting Warrington Wolves rugby players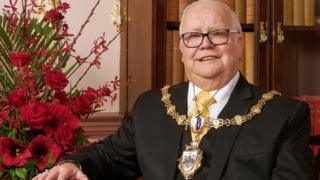 The Mayor of Warrington has resigned after posting derogatory online comments about two rugby players.
Les Morgan made remarks about Warrington Wolves' brothers Toby and George King after the club's defeat by Hull on Friday.
Writing on Facebook, he said "it's a pity their parents ever met" before making a further lewd comment, the Warrington Guardian reported.
Wolves fans described the 75-year-old's comments as "disgraceful".
Warrington Borough Council confirmed Mr Morgan had resigned from his position as mayor "with immediate effect".
A spokesman added: "He will continue in his role as councillor for Latchford West."
The BBC has approached Mr Morgan for comment.
Toby King, 21, played in the game after coming on as a substitute while his brother George, 23, did not make the match day squad.
Mr Morgan's comments were in response to a post which asked supporters: "Who is worse, Toby or George King? You decide?"
The Warrington Guardian said Mr Morgan resigned after a "backlash" from fans, with many calling for him to step down.
The newspaper said he had apologised and was prepared to meet the King brothers "to show how sincere the apology is".
A Warrington Wolves spokesman said neither the club or the players would be commenting.
Grandfather Mr Morgan is a former trade union official who describes himself as a "lifelong supporter" of the rugby club.
The council previously described him as the "mayor that cares".