Council moots hotel bed tax for Liverpool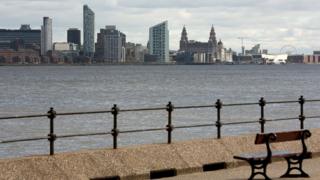 Liverpool should seek to pilot a hotel bed tax to support culture and tourism in the city, a report has recommended.
MPs and councillors in Liverpool are being urged to lobby the government for legislation allowing local levies.
The city could be a "test bed for the rest of the country", Liverpool City Region metro mayor Steve Rotheram said.
UKHospitality, which represents thousands of hotels, said it opposed any new tax but some hoteliers say they would support a small charge.
"There's less funding out there coming from government and from Europe for obvious reasons so we need to have that fighting fund to allow us to compete on a worldwide stage," said Enda Rylands from the Liverpool Hospitality Association.
Tony Sophoclides, from UKHospitality, said a levy would hit lower and middle income tourists the most and he "would prefer for this just not to be considered".
"We have 20% VAT on tourism here - in France, Italy and Spain it's 10% so I think there's a competitiveness there that we need to respect," he said.
Mr Rotheram said: "If the government are looking for a pilot area it could be the Liverpool City Region whose tourist industry is literally booming at the moment."
He said the idea was in the "early stages of scrutiny" but "we need to discuss with the government... to see whether we can be a test-bed for the rest of the country".
The city council scrutiny committee report said hotels, retail and restaurants received the benefits of culture but were not obligated to fund it.
Liverpool should support other cities such as Birmingham, which is also lobbying for local levies to support the Commonwealth Games in 2022, the report added.
The report also says the waterfront and marina should be better utilised and more should be done to improve Mathew Street.
A tourist tax is levied in many European countries and a similar tax has previously been suggested by cities including Hull and Bath.
Imposing any tax would require government approval of new legislation before it could be introduced by a council.