Aintree University Hospital NHS Foundation Trust 'requires improvements'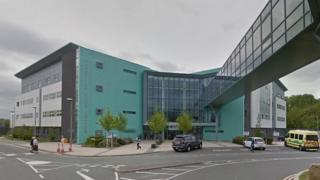 A hospital trust has been told to improve after a "deterioration in the quality of services" was found by the Care Quality Commission (CQC).
Aintree University Hospital NHS Foundation Trust has had its rating downgraded from "good" to "requires improvement".
The regulator said there were concerns with its emergency care and on wards.
The trust said it was "clearly disappointed" but will work on areas where improvement is needed.
The CQC inspected the trust in October.
It found urgent and emergency services did not always have enough staff with the required skills to "keep people safe from avoidable harm and to provide the right care and treatment".
Patients were also waiting too long, with a "high number spending more than 12 hours in the department".
The regulator also said on wards it found "environments that weren't fit for purpose" which affected patients' privacy.
One ward also had no call bells to summon staff.
However, the CQC rated surgery and caring as "good" in all areas. It also found "outstanding practise" in the pharmacy.
Ellen Armistead, deputy chief inspector of hospitals at the CQC, said a "number" of improvements are needed.
"The trust board knows what it must do to ensure improvements are made. We will continue to monitor the service and re-inspect to check on their progress," she said.
Trust medical director Dr Tristan Cope said it will use the report's findings as the basis for its improvement work.