Escaped murderer Shaun Walmsley 'looking over his shoulder'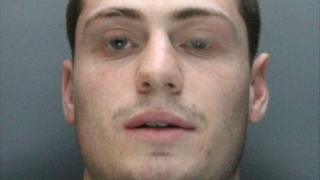 It is "only a matter of time" before a convicted murderer who was sprung from custody during a hospital visit is captured, police have said.
Armed men helped Shaun Walmsley flee outside Liverpool's Aintree University Hospital on 21 February last year.
He is thought to have used false papers to escape the country.
In a fresh appeal a year since his escape, police warned Walmsley was now "looking over his shoulder" as officers followed "a number of strong leads".
The 28-year-old was jailed for a minimum of 30 years for the murder of Anthony Duffy, from Kirkby, in 2014.
Police have arrested 22 people in connection with his escape and seized about £150,000, 30,000 euros, drugs worth about £900,000 and 32 rounds of ammunition.
A reward of £20,000, financed using the killer's own money which police seized after his conviction, has been offered for information leading to his capture.
Ch Supt Natalie Perischine said Walmsley was a "highly dangerous individual" who was involved in a "vicious and savage murder".
She said he would have "spent the past 12 months looking over his shoulder, waiting for a knock on the door and we know it is only a matter of time before he is back behind bars".
"I would ask people, does this man deserve to have his freedom or does he deserve to be spending the foreseeable future in a prison cell?
"We know that there are people out there who know where he is and that over time, people's allegiances change.
"I would appeal to those people - come forward and tell us where he is."
Walmsley is described as 6ft tall and of slim build, with dark brown hair and blue eyes.