LED road studs to 'improve safety' at Switch Island junction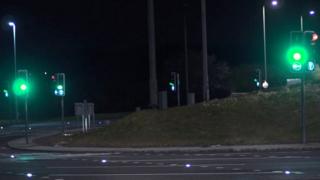 Road studs which change colour with traffic lights are being installed to cut accidents at one of England's busiest motorway junctions.
Switch Island on Merseyside has seen 49 crashes in two years and is the first junction to use the technology.
Highways England said introducing so-called "smart" LED road lights should reduce accidents caused by motorists "drifting" into the wrong lane.
Sefton Council said it was "delighted" with the scheme.
Switch Island is where the M57, M58 and three A-roads converge and is used by more than 90,000 vehicles every day.
"The main reason for this scheme is road safety - people will be able to know what line they are to drive in," said a Highways England spokesman.
The 170 studs are visible more then 1,000m (3,280ft) away which is greater than the regular road studs, he added.
Unlike traditional "cat's eyes" which reflect a car's headlights, the LED lights are connected to traffic lights and change colour accordingly.
Taller traffic lights are also being installed - higher than HGVs and double-decker buses - so drivers approaching the junction can clearly see when the lights are changing.
Phil Tyrrell, Project Manager at Highways England, said: "We're always looking for new ways to further improve journeys and safety for drivers.
"The innovative light-up road studs along with the other improvements we're introducing will make it much easier to navigate the junction, benefitting the tens of thousands of drivers who travel through it every day."
The RAC said there could be other applications for the technology such as "bus lanes to let motorists categorically know when they are in operation".
LED studs have been installed in Surrey to guide drivers through Hindhead Tunnel but Switch Island is believed to be the first time they have been used at a motorway junction.