Liverpool mayor 'interviewed under caution' over fraud probe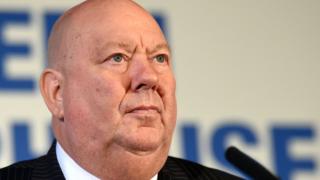 The mayor of Liverpool has been interviewed under caution as part of a fraud inquiry into a council contract.
Joe Anderson went to a police station in November over an investigation into financial irregularities at Lancashire County Council, it has emerged.
Mr Anderson said he had met police "voluntarily" under caution, amid growing calls for him to "step aside".
Four men, including Liverpool's chief executive, have been arrested and bailed pending further inquires.
Lancashire Police has been investigating allegations of financial irregularities over the tendering of a £5m contract with One Connect Ltd, a joint venture between the Lancashire County Council and BT to run some services since 2013.
Mr Anderson said he had met the police on "several occasions".
"One of those was voluntarily under caution which I positively wanted to attend to evidence my full co-operation and assistance in their enquiries," he said.
'Step aside'
Liberal Democrat leader Richard Kemp said the mayor should "step aside from council business" until the matter is resolved.
"Councillor O'Byrne is in place as the deputy mayor to stand in. I believe it is in the best interests of the city and indeed of Joe Anderson if he were to take this very reasonable action," he said.
A spokesman for Lancashire Police said: "A 60 year old man attended a police station in the county by pre-arranged appointment on 7 and 24 November, 2017, as part of an on-going investigation. The individual concerned has not been arrested."
Four men were arrested and bailed last year on suspicion of conspiracy to pervert the course of justice and witness intimidation, but not on suspicion of fraud.
One of those arrested was Ged Fitzgerald, the chief executive at Lancashire before he left to take up the same post at Liverpool. He is currently suspended from his role.
Geoff Driver, who currently leads the county council, was also among those held.