Liverpool goalkeeper Tommy Lawrence's funeral held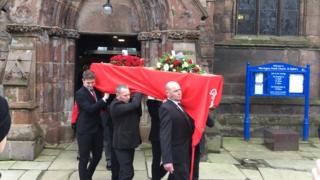 Hundreds of mourners have paid tribute to former Liverpool FC goalkeeper Tommy Lawrence at his funeral.
The Scotsman, who won three caps for his country and was Bill Shankly's first-choice keeper during the 1960s, died earlier this month aged 77.
You'll Never Walk Alone played and mourners applauded when the coffin, draped in a red LFC banner, left St Elphin's Parish Church in Warrington.
Former teammate Roger Hunt remembered him as a "brilliant sweeper-keeper".
Robbie Fowler and Kenny Dalglish joined former players Ian St John, Ray Clemence, Ian Callaghan and Gordon Milne at the service on Tuesday.
Lifelong friend Roger Hunt remembered him as a "brilliant sweeper-keeper" but said he "scored a few past him over the years".
Widely known to Liverpool fans as "Sir" Roger, he said that Lawrence's nickname 'The Flying Pig', though it sounded critical, "was affectionate".
He was given the moniker because of his ability to dive around the penalty area despite weighing more than 14 stone.
During the service, led by Rev Stewart McTaggart, Lawrence's grandson Ryan Murray said he loved the nickname and LFC was his grandfather's life.
"He was the embodiment of what a footballer should be and if there were more like him, football would be a better place."
The hymn Morning Has Broken was played during the service and Liverpool FC club chaplain Rev Bill Bygroves spoke about the goalkeeper's life.
Lawrence made 390 appearances for the Reds winning three major trophies.
He helped Liverpool win the FA Cup against Leeds at Wembley in 1965 and also two league titles, as well as losing a European Cup Winners' Cup Final to Borussia Dortmund at Hampden Park in 1966.
Former England number one Ray Clemence said he "learned so much from Tommy" who "deserved to play for Scotland more than he did".
Clemence, who replaced him as Liverpool's keeper said: "For me at the time he was probably the best one v one goalkeeper around".
Gordon Milne remembered him "as a pal" who came "through the same route from not having anything or expecting too much and being there at the beginning of what turned out to be a great football club".
"Tom was ahead of the game in terms of anticipating danger and probably the first to play as an out-and-out outside keeper. We'll miss him terribly."
Ian St John described his former teammate as "a terrific lad" who "was the man" in goal and "who set a new trend."
Phil Thompson, who met Lawrence after joining Liverpool as an apprentice, said he was an "absolute legend and his laugh was quite infectious".
"You can imagine being a fan and you've come from the Kop and cleaning boots... for me to bridge that gap and become a friend... it was great."
One fan outside the church paid tribute to a "gentleman" with "nothing flash about him - he just did the job".
Another said: "He's a legend... he was the first of his kind."
"He played with a passion for the club - it wasn't about money. They were proud to put on a Liverpool shirt," said another.