'Tsunami of issues' at failing Wallasey academy school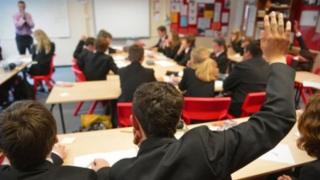 A "chaotic" school in Wirral has been rated inadequate by inspectors who found a daily "tsunami of issues".
Emslie Morgan Academy in Wallasey takes students excluded from other schools but half were "persistently absent", Ofsted inspectors found.
Smoking was "routine" among students with younger pupils accompanied to the edge of the school grounds to light up.
Liverpool City Region Academy Trust said it was "disappointed" by the report and aimed to "raise standards".
Ofsted inspectors also said teaching at the school was "weak, inconsistent and does not meet the pupils' needs".
Their report said many of Emslie Morgan's 101 pupils used "derogatory and aggressive language routinely" towards staff and each other.
"Individuals and groups are often out of lessons; shouting, swearing and banging on windows and doors," it added.
"The school is chaotic. Staff struggle to deal with pupils' challenging behaviour."
There was "no convincing evidence" staff could protect victims of bullying.
And nearly a third of graduates were not in jobs or training months after leaving.
The report said: "The school's improvement plan is not fit for purpose. Both the trust and the local governing body are failing to arrest the decline and ensure that pupils are well cared for and safe."
The addition of two extra staff to support the headteacher is "insufficient to stem the tsunami of issues which leaders face on a daily basis," the report concluded.
Liverpool City Region Academy Trust took over the running of the school from Wirral Council in 2015.
Chief executive Cathy Fairclough said: "Since acquiring the school, the trust has worked tirelessly on developing positive relationships with staff, pupils and parents to improve the experience and opportunities for the young people at Emslie Morgan.
"The trust is naturally disappointed with the result of the recent inspection but will continue to drive forward and raise standards."