Energy firm's Cheshire plans refused by councillors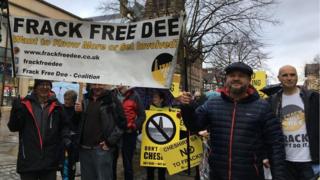 An energy firm's proposals to carry out tests for gas in Cheshire - which critics say could lead to fracking - have been refused by councillors.
Cheshire West and Chester Council's planning committee voted 10 to 1 to reject IGas's plans for Ellesmere Port because of "climate change" concerns.
Anti-fracking campaigner Matt Bryan said the company's plan was "a prequel to full-scale fracking".
IGas denied this and said it would consider an appeal against the ruling.
Protesters celebrated on Thursday after the council threw out the IGas plans which drew more than 1,400 objections.
"We've seen unprecedented opposition to this application," added Mr Bryan, who is also a Labour member of the council.
IGas subsidiary Island Gas Ltd had applied to conduct flow tests on underground rock formations at a well site on Portside North in Ellesmere Port.
It wanted to establish whether "commercial hydrocarbon production" could take place.
The company told planning officers its plans "do not involve any drilling or deepening of the existing well and does not involve hydraulic fracturing (fracking)".
But the cross-party planning committee rejected IGas's proposals saying they "did not manage or adapt to the effects of climate change".
---
Analysis: Phil McCann, BBC Cheshire political reporter
The controversial process of fracking involves pumping chemicals under high pressure into deep rock formations to release gas trapped inside.
But IGas said it was not applying to frack at its Portside North site.
Instead, it was applying to conduct tests which would have involved pumping acid at pressure into its boreholes - leading to accusations that the plans do represent a form of fracking.
The council said the acid flow would not actually fracture the rock formations.
As well as arguing these tests were dangerous enough on their own, campaigners said they represented a "step towards fracking", which would have necessitated another planning application.
---
The council received 1,411 objections and a petition of 1,044 signatures against the plans, with two representations supporting them.
A previous report by planning officers argued the proposals should be approved because they met planning policies and "would not give rise to unacceptable adverse impacts on the natural environment and human health".
Island Gas Ltd was given planning permission in 2010 to drill exploratory boreholes at the Portside North site to search for coal bed methane.
Spokesman John Blaymires said: "Major employers in the area rely on gas for power and providing raw materials, so big employment is dependant upon local gas.
"We will consider whether or not an appeal is something that might be for the future."
Mr Bryan said he hoped IGas would "respect local democracy and not appeal".
"We hope that if it does appeal, the Secretary of State will not overturn this democratic decision."