Liverpool speeding driver Patrick Smeda jailed over boy's crash death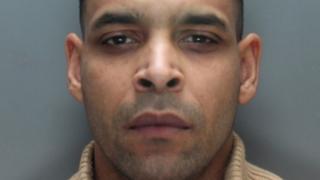 A man who killed a teenager in a crash as he raced another car at three times the speed limit has been jailed.
Thomas Edwards, 16, suffered a serious head injury and died in hospital after being hit by an Audi in Mossley Hill Drive near Sefton Park on 13 November.
Patrick Smeda, 34, of Alderson Road, Liverpool had previously admitted causing death by dangerous driving and failing to stop after an accident.
He was sentenced at Liverpool Crown Court to eight years in prison.
But Judge Clement Goldstone QC explained Smeda would not serve any of this sentence because he was out of prison on licence at the time of the crime.
Instead, he has been recalled to prison to continue his previous 14-year sentence for an armed robbery spree.
The judge said the law no longer allows him to order the sentences to run consecutively.
The court heard Thomas was on his way to see a friend when he was hit by Smeda.
The judge described it as "a piece of driving which was as dangerous as it was arrogant".
He said: "At the point of impact your speed was no less than 49 mph and it may have been as high as 60 mph and you made no effort to brake before impact.
"You stopped the vehicle and once you knew what you had done, you fled the scene."
Simon Duncan, prosecuting, had told the court that Smeda was described as "freaking out" at the scene before he and one of his passengers walked off.
Smeda gave himself up at a police station three days later and admitted he was the driver.
John Rowan, defending, said Smeda was disgusted at his actions that "will remain with him for the rest of his life. He will never forgive himself."
The boy's father Mark Thomas told the court: "We now know Patrick Smeda left our son to die all alone in the cold.
"We never had the opportunity to comfort him and hold his hand, that is something that will haunt us forever."