Mersey tunnel tolls: Fare cut pledge 'watered down'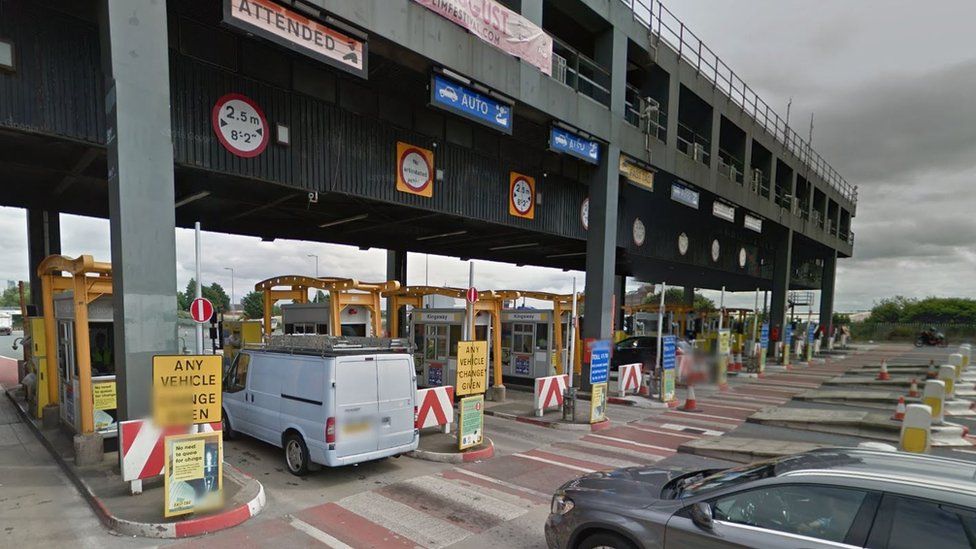 A plan to cut off-peak Mersey tunnel tolls has been criticised for overlooking rush-hour commuters.
Steve Rotheram promised to reduce tolls for "fast tag" users from £1.20 to £1 when elected as metro mayor of Liverpool City Region in May.
Encouraging use of the fast tag system would "reduce congestion and air pollution," he said.
But campaigners accused the mayor of "watering down" one of his key election pledges.
During my election, I promised to look at fairer tolling options for Mersey Tunnels users and today I am proposing the introduction of a £1 off-peak Fast Tag to improve air-quality and make cross-river travel more affordable.

Read more here ➡️ https://t.co/dBHNiG2ecR pic.twitter.com/kQ2L8b3Qdf

— Steve Rotheram (@MetroMayorSteve) January 23, 2018
John McGoldrick of the Tunnels Users Association and of Scrap Mersey Tolls said tolls were a "blight on the region" and accused politicians of trying to "loot the tunnels for as much cash as they can get".
He added that a previous call to "end the profit-taking" had been ignored.
"Now even that has been further watered down so that it is only fast tag tolls at night and on Sundays that may be reduced. There are even suggestions that the cash toll for cars of £1.70 may be increased in April."
If the plans are approved, "fast-tag" toll users will see a 20p reduction next year between 19:00 and 07:00 from Monday to Saturday and all day on Sundays.
The former Labour MP for Liverpool Walton said: "We have to look at all the alternatives to.... speed up each individual transaction and alleviate some of the environmental problems... in those tunnel areas."
He also said hikes to cash payments were "inevitable" in the future to ensure the maintenance cost of the "ageing tunnels" is met.
Commuters on social media accused Rotheram of going back on his election promise.
Great Again Miller tweeted: "You said you would reduce the tunnel cost to £1 per trip, no mention of ridiculous off peak times that workers won't benefit from.
Peter Kennedy tweeted: "Not exactly what you promised, typical politician with another "pledge" watered down on delivery."
Liverpool Combined Authority oversees Merseytravel which runs public transport in the city region.
The plan will be considered at a meeting of the Combined Authority's Transport Committee and its full budget meeting on 1 February.
Related Internet Links
The BBC is not responsible for the content of external sites.