Cammell Laird shipyard: Two 24-hour strikes announced by GMB members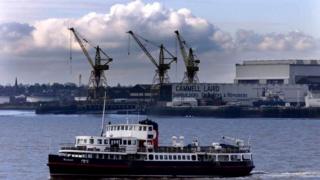 Workers at shipbuilders Cammell Laird are to stage two 24-hour strikes in a dispute over pay and conditions.
The GMB trade union said up to 500 of its members at the Birkenhead shipyard will walk out on 26 and 29 January, with more strikes planned next month.
Union official Albie McGuigan said a series of meetings with management had failed to break the deadlocked row and its members were "angry".
Management said GMB's claim, equating to 10% per annum, was "unaffordable".
'Unrealistic' claim
Mr McGuigan said: "No-one wants to take strike action, but our members are angry. They have been backed into a corner."
In a statement, Cammell Laird said it was "hugely disappointed" by the impending industrial action.
"The trade union had formalised a one-year claim which, where elements can be calculated, equates to more than 10% per annum. However the incalculable elements would substantially increase these company costs further.
"The company has spent the last seven months discussing the commercial rationale behind the claim and maintains [it] is unrealistic and unaffordable."
The firm said it currently employs approximately 1,200 direct workers on the site with an additional 500 in the local supply chain.
It added a meeting with the union had been arranged for 22 January.