Knowsley Council parks sale plan to go ahead after vote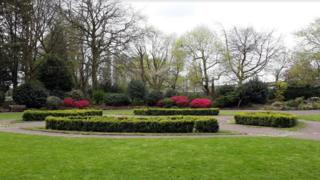 A council has voted to go ahead with proposals to sell 10% of its parkland.
The plans, by Knowsley Council in Merseyside, were put on hold after the council's scrutiny committee asked for them to be reviewed.
Speaking after a unanimous vote to proceed with the scheme, council leader Andy Moorhead said it was "about protecting parks, not taking them away".
Knowsley Green Party said it was "appalled".
Over the next 15 years the authority plans to put £40m from the sale of land into a charitable trust which will run the borough's parks.
The Labour-led council said the sale would protect the remainder of its parks from government funding cuts "forever".
It said funding for its green spaces would end in March 2019 and it could no longer afford the £1.3m annual cost.
This plan would generate enough interest to meet the costs of running the remaining parks, the council added.
'No plan'
Mr Moorhead said that by November he will have a "full, robust business case".
Knowsley Green Party spokesman Kai Taylor said Labour councillors who supported the decision had "let their residents down greatly".
He said: "The scrutiny committee called this in for three reasons and not a single one of those have been addressed properly.
"There is still no real business plan and there is still not real detail about what will happen when the council transfers stock and personnel to this private company."
---
The 17 green spaces the council plans to surrender are:
Alt Park (part of)
Broad Lane Playing Fields
Copthorne (adjacent community centre not included)
Court Hey Park (part of pending separate tender exercise relating to the future of former National Wildflower Centre)
Cowper Way
Field Lane
Finch Wood
Frederick Lunt Playing Fields
Grace Park
Halewood Doorstep Green (part of)
King George V Playing Fields, Prescot
Pool Hey Playing Fields
Roby Playing Fields (adjacent community centre not included)
St John's Millennium Green
Spring Wood
Syders Grove (part of)
Westview