Liverpool Lime Street closed for emergency repairs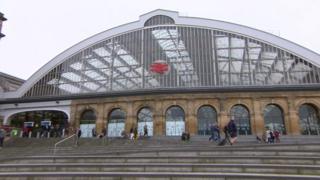 Liverpool's main railway station will be closed for two days while emergency repair work is carried out.
Severe corrosion has been found on a structure carrying overhead wires over all four lines at Liverpool Lime Street, Network Rail said.
The damage means it is not safe for trains to pass underneath.
Repairs are expected to take at least 24 hours and passengers should check train operators' websites before travelling.
The station was closed for a week in February when a section of trackside wall collapsed, blocking lines into the station.