Battle of the Atlantic: Appeal for £2.5m memorial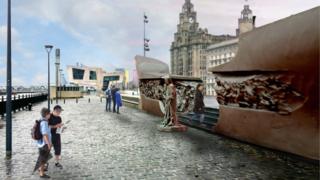 A campaign to build a national memorial to the estimated 100,000 people who died in the Battle of the Atlantic is being launched in Liverpool.
Battle of the Atlantic Memorial (BOAM), the charity leading the campaign, needs to raise £2.5m for the 28m (91ft) monument on the Pier Head.
It has been designed by sculptor Paul Day, who also created the Battle of Britain monument in London.
The battle, which lasted from 1939-45, centred on protecting supply ships.
BOAM chairman Vice Adm Mike Gretton, whose father Vice Adm Sir Peter Gretton served as an Atlantic escort group commander, said the aim was to unveil the monument in 2019 - the 80th anniversary of the start of the battle and the beginning of World War Two.
"Despite the immense significance of the Battle of the Atlantic, it does not have a dedicated national memorial in Britain," he said.
The memorial will incorporate the existing statue of U-Boat hunter Johnnie Walker.
---
The Battle of the Atlantic
The term Battle of the Atlantic was coined by Winston Churchill to describe World War Two's longest campaign
Allies sought to secure shipping across the Atlantic so supplies could be provided for the war effort
Its nerve centre was The Western Approaches Command Centre, which was moved from Plymouth to Liverpool in 1940 into a bomb-proof basement of an office block
Between 1939 and 1945, the port of Liverpool handled more than 75m tonnes of cargo (56m imports and 18.5m war supplies sent overseas)
Liverpool was one of three important bases for the navy's supply convoy escorts, with around 60 vessels sailing regularly from the port
Sources: BBC History/Merseyside Maritime Museum
---
Vice Adm Gretton said Liverpool was the best site for the memorial as it was the city where many of the Royal Navy and merchant ships were built, and where many of the sailors came from.
He said the memorial would also reflect the campaign's international nature, recognising the efforts of the United States, Canada, Norway, the Netherlands, Belgium, France, Poland, Brazil, Australia, New Zealand and Russia.
Mr Day said it was a huge honour to design the monument, adding: "Liverpool remains a breath-taking city and one of the greatest waterfront skylines in Europe. This sculpture must be able to complement a varied architectural landscape."