Ministers under fire over 'squalid' Liverpool jail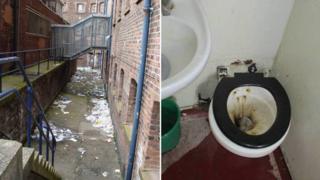 Ministers have come under cross-party fire in the House of Lords over "squalid" conditions at Liverpool prison.
Inmates are living in the worst conditions inspectors have ever seen, according to a report seen by the BBC.
Rats and cockroaches were rife, with one area of the jail so dirty, infested and hazardous it could not be cleaned.
Ministry of Justice spokesman Lord Keen of Elie said an action plan was "urgently" being developed.
Immediate action taken included the appointment of a new governor, a review of prisoner accommodation to facilitate refurbishment and urgent work to deal with the backlog of repairs, he told question time.
Labour spokesman Lord Beecham called on the government to publish the inspectors' report on the unannounced visit in September.
'Very troubling matters'
He said the situation was "a shameful litany of squalor, sickness and apparently even death".
Lord Keen said the report will be published in January and acknowledged "very troubling matters" were raised.
He said not a pound had been spent on cell accommodation since 1994.
Independent crossbencher Lord Alton of Liverpool said one of the most troubling aspects of the report was the failure to respond to the mental health needs of inmates.
Liberal Democrat Lord Marks of Henley-on-Thames said the report found prisoners spending 22 hours a day in "filthy, vermin-infested cells with exposed electrical wiring and blocked, leaking lavatories".
He called for a "crisis taskforce" to be set up to "turn around the dreadful conditions in our failing prisons".
Lord Keen said ministers had replaced not only the governor, but the deputy governor and the head of health care.
"We intend to establish a new unit in the Prison Service to enhance our response to the recommendations of the inspector, which will involve monitoring and auditing progress of recommendations," he added.