Hillsborough officer not charged over horse burn claims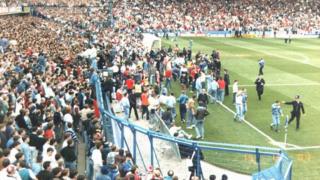 A mounted officer and a police worker who claimed Liverpool fans burned a horse with cigarettes during the Hillsborough disaster will not face criminal charges.
The former South Yorkshire Police officer and the civilian farrier were accused of making up the story.
Both men were referred to the Crown Prosecution Service (CPS) by the police watchdog.
The CPS said the families of the 96 Hillsborough victims had been informed.
The Independent Police Complaints Commission (IPCC) had submitted files on the two men following allegations about falsified evidence.
Prosecutors said the mounted officer had been seen on camera before the FA Cup semi-final lashing out towards fans, whom he later claimed were burning his horse with cigarettes.
The farrier, who was a friend of the officer, also described the injuries sustained by the horse.
It was alleged that the accounts were false and given to protect the officer from disciplinary action.
'Serious allegations'
The CPS said the evidential threshold for a charge of perverting the course of justice had been met in relation to the farrier, but it was concluded that it was not in the public interest to charge him.
It said the evidential threshold had not been met in relation to the officer.
IPCC deputy chairwoman Rachel Cerfontyne said: "It was vitally important that allegations of such a serious nature were investigated robustly."
Six men, including match commander David Duckenfield, are already facing prosecution for alleged offences related to the disaster on 15 April 1989 and its aftermath.
Once all criminal proceedings have concluded, the IPCC will consider whether any former officers would have had cases to answer for misconduct.
Evidence supporting these findings will be set out in a final investigation report.
A total of 96 Liverpool fans were fatally crushed during the stadium disaster on 15 April as their FA Cup semi-final began against Nottingham Forest.