Campaign for Chester to become 'straw free' city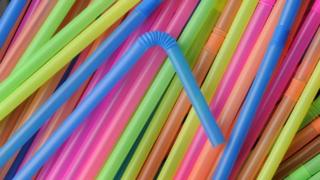 A campaign to create one of the first "straw free" cities in the UK has been launched.
Dr Christian Dunn has started the scheme in his home city of Chester, Cheshire, after seeing plastic straws washed up on beaches while surfing.
The lecturer claims about 300,000 a day are used there and he is asking people to avoid them or choose recyclable ones as part of #StrawFreeChester.
Councillor Jill Houlbrook said the UK has a "duty to protect our oceans".
Dr Dunn is urging residents to sign a petition to pledge to use fewer plastic straws, to avoid asking for single-use plastic straws and by encouraging businesses to stop offering them.
The biological sciences lecturer at Bangor University said: "The issue of plastic waste is a crucial and growing issue as we still don't know how long, if at all, it takes for plastic to break down.
"You use a straw for about 20 minutes to drink your drink, so I'm asking for local bars to not give out plastic straws with drinks unless specifically asked."
Councillor Houlbrook, who represents the Upton ward, said: "It would be fantastic if Chester could be the first UK city to turn its back on plastic drinking straws."
Bars have also recently been under pressure to remove plastic straws following the Refuse the Straw campaign, which started in the US and has been endorsed by Vivienne Westwood.
Pub chain JD Wetherspoon earlier this year announced it has stopped automatically putting plastic straws in drinks, and will only use biodegradable paper straws from 2018.