Jon Snow 'flattered' by University of Liverpool campaign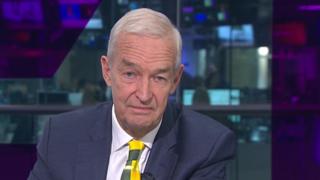 Channel 4 newsreader Jon Snow said he was a "flattered" students have suggested naming a university building after him instead of a former prime minister.
University of Liverpool student Alisha Raithatha said William Gladstone's name should be dropped from the Roscoe and Gladstone Hall.
Snow was expelled from the university but later given an honorary degree.
He said he would love it to be named after hurricane-hit Barbuda.
Ms Raithatha has launched a petition to remove name of Gladstone, who spoke out against the abolition of slavery, from the building.
Broadcaster Snow said he was a "tiny bit flattered" to be suggested by the veterinary medicine undergraduate as a replacement.
"It is amazing even to be remembered as having anything to do with Liverpool," he added.
"Gladstone has been a long time dead, why not deal with the living?"
Snow said the other name put forward was his "absolute favourite poet" Carol Ann Duffy, and added that the university should get behind a "real cause".
"There is this island of Barbuda which has the descendants of slaves who were once endowed with permanent homes," he said.
"The hurricane has done away with that and the authorities on the neighbouring island of Antigua which runs Barbuda have simply decided to more or less sell it to the highest bidder and dispossess them of their land rights.
"I would love it to be named Barbuda Hall, at least until those descendants of slaves are given back land rights."
The petition to remove Gladstone's "racially marred legacy" from the university is being discussed by the Liverpool Guild of Students.
If agreed, it will be raised with the university.
Liberal politician Gladstone, who was born in Liverpool and died in 1898, is the only person to have been prime minister on four separate occasions.
He is described as having "ultra-conservative" views and spoke out against abolition in Parliament because his family had slaves on their West Indian plantation.