Planned £212m Warrington road across Manchester Ship Canal approved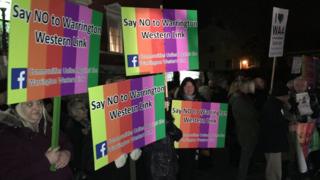 A road route designed to ease congestion in Warrington has been given approval despite residents' protests.
The £212m Western Link road will join the south of the town with Great Sankey, crossing the Manchester Ship Canal on a high-level bridge.
It will go through some residential streets, as well as Sankey Valley Park and Morley Common recreation area.
Warrington Council said the road was "essential", but campaigners fear it will increase pollution and noise.
The council's executive board approved the proposals at a meeting on Monday night, after a protest was staged outside the town hall.
Campaigner Anthony Towers said the route would "move congestion from one part of town to the other part of town".
"If it was going to ease congestion, we would be all for it", he added.
The authority held a consultation on six potential routes earlier this year, but chose a revised version of one of the routes which reduced the number of houses that required demolition to four.
Councillor Hans Mundry said the scheme was "essential for the town to continue to grow and prosper".
"We have been growing as a town, but our infrastructure has not been growing with us", he told councillors.
The route would link the A56 Chester Road with the A57 in Great Sankey, crossing both the River Mersey and the Manchester Ship Canal.
It is expected that construction could begin on the road by 2020.
The road is a key element of a housing strategy that is due to earmark land for 24,000 new homes across the borough.
That strategy has drawn criticism, as it includes a plan to build 9,000 homes on green belt land.