Mayor Steve Rotheram revives River Mersey tidal power plan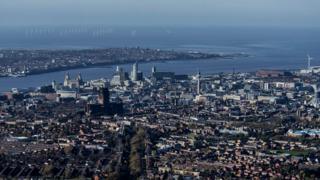 Plans to harness tidal energy in the River Mersey in Liverpool have been revived by the city region's mayor.
Steve Rotheram is revisiting the project, which would see a barrage built across the river, six years after it was abandoned by developers.
The scheme was announced as part of a 10-point plan drawing on pledges Mr Rotheram made during his election campaign earlier this year.
The mayor also wants to build 25,000 new homes before 2022.
A previous River Mersey barrage scheme was abandoned in 2011 after a study by Peel Energy and the North West Development Agency.
Their preferred plan was to construct a barrage between New Ferry and Dingle, but Peel feared the project would not be profitable enough.
While the new plan is at a very early stage, Mr Rotheram has appointed Brent Cheshire, former UK chairman of Dong Energy, to push it forward.
He said: "It has been debated and discussed for more than three decades. Devolution finally gives us the opportunity to deliver a project of this scale."
Also featuring in his announcement, Mr Rotheram's Housing First initiative pledges to end "the scandal of rough sleeping in Liverpool".
The Labour politician said he wanted to ensure "new homes are available to those in greatest need as soon as possible", and to build a variety of "decent and affordable" properties.
Linked to this, Mr Rotheram renewed a promise to prioritise building development on brownfield sites.
The mayor pledged to explore linking the region up to the most cutting edge broadband connections, with a vision to make the city region "the most digitally connected region in the UK".
Other proposals included revamping the Walrus payment card for public transport into a system of smart-ticketing similar to London's Oyster card.
Mr Rotheram also wants to improve cross-river transport by developing a more affordable pass for Mersey Tunnel users and plans for a new Mersey Ferry.
---
Analysis - Claire Hamilton, Political Reporter, BBC Radio Merseyside
Anyone wondering what Steve Rotheram has been up to for the past six months will be partially satisfied by today's announcements, but also slightly underwhelmed.
There's been a perception that while the mayor's Greater Manchester counterpart Andy Burnham has been championing a stream of high profile policies, Mr Rotheram has been much less active.
His passion and commitment aren't in doubt, but his powers are considerably more restricted.
Most voters will be looking at the measures to address the cost of crossing the Mersey. Though reducing the price of the fast tag Mersey Tunnel pass was an election promise, it also means the cost in cash for other users could rise.
Developing an Oyster card-style public transport system would be popular, and Mr Rotheram wants to streamline the ticketing process and drag it kicking and screaming towards something similar.
But will the private bus and rail companies go for it?
Meanwhile, harnessing the power of the River Mersey is a scheme others have tried - and failed - to stack up financially.
And it will be interesting to see how house-building targets fit in with councils' existing plans.
The mayor's announcement tells us Santa Claus is coming to town, but has still to explain how he will get down the chimney.