Britain's Got Talent girl dancing again after op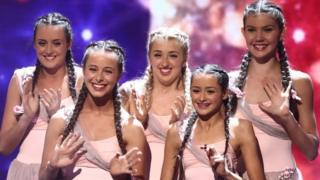 A 15-year-old dancer who received money from Simon Cowell for back surgery after she appeared on Britain's Got Talent said the curve in her spine had halved after treatment.
Julia Carlile, from West Kirby, of dance troupe MerseyGirls has undergone two operations in the US for back condition scoliosis.
Her mother Kate said the surgery had given Julia "the chance of a lifetime".
She said Cowell has been keeping up with Julia's progress.
Julia said she was "pretty much fully recovered" and was starting to dance again.
'So amazing'
She will be performing with MerseyGirls in February at an event at the Liverpool Empire.
"It halved the size of my curve which is so amazing and I can bend to my sides a little bit more," Julia said.
She found out about Cowell offering to pay for her treatment just after she had come off stage.
"He said 'don't thank me, it's fine'," she added.
Her mother said the family had heard of the surgery, but did not think they would be able to afford it.
"I don't know how much it all cost, I know it's not cheap and it was hugely generous," she said.
MerseyGirls came ninth in the final of Britain's Got Talent.