Luke Rutter death: 'Blast injuries' killed Syria war Briton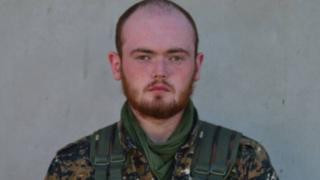 A British man killed fighting the so-called Islamic State in Syria died from blast injuries, an inquest has heard.
Luke Rutter, 22, from Birkenhead, died on 5 July in Raqqa after joining Kurdish fighters of the YPG.
An inquest in Liverpool heard he was "more likely than not" to have been killed by either by an improvised explosive device (IED) or a rocket.
A post-mortem examination showed the cause of Mr Rutter's death was blast injuries.
Mr Rutter was "hit with projectiles and shrapnel with immediate fatal consequences," the coroner Andre Rebello said.
"It is more likely that not he was killed by Daesh [IS] terrorists in this conflict."
'I apologise massively'
Mr Rutter is believed to have joined the fighting in Syria in March.
In a video message released after his death, he apologised for lying to his family about travelling to Syria.
"I said that I was going somewhere else, I didn't. I apologise massively for that," he said.
"Apart from that I don't regret my decision and I hope that you respect it."
The British Foreign Office advises against all travel to Syria.