Calls to ban Coca-Cola Christmas truck from Liverpool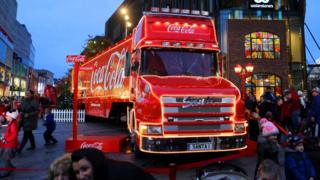 Calls have been made to ban the Coca-Cola truck from Liverpool this Christmas amid concerns about obesity levels in the city.
Liverpool's Liberal Democrat leader Richard Kemp said the city is "in the grip of an obesity epidemic".
He believes Coca-Cola's popular festive vehicle promotes a product which is "grossly unhealthy", as first reported in the Liverpool Echo.
A Coca-Cola spokesman said the truck also promotes sugar-free drinks.
Mr Kemp has written a letter to managers of the Liverpool One shopping district, setting out his opposition to the "cynical event"
His concerns come four months after a study by Public Health Liverpool naming and shaming what it said were the most sugary breakfast cereals.
He wrote: "You are probably aware that Liverpool is in the grip of an obesity epidemic for children and adults. 30% of our 11-year-olds are obese.
"The biggest single cause of this is the consumption of fizzy drinks.
"That is why I am appalled that there is a rumour going round that you will welcome the Coca-Cola van to Liverpool. This cynical event has taken place for the past five years and is not designed to welcome Christmas but to increase the consumption of a product that is grossly unhealthy."
A spokesman for Coca-Cola Great Britain said it had received a "positive response from many people in Liverpool" during previous visits.
He added: "People will have the opportunity to see the truck up close, have their photograph taken and enjoy a choice of a small, 150ml can of Coca-Cola Classic or one of our no sugar options, Diet Coke or Coca-Cola Zero Sugar."
No-one at Liverpool One was available for comment.