Yusuf Sonko shooting: Family demands end to 'no grass' culture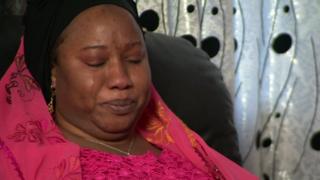 The family of an 18-year-old murder victim has made an appeal for an end to the "no grass" culture they believe has prevented the teenager's killers being caught.
Student Yusuf Sonko was shot dead in Liverpool in June but police are yet to charge anyone over his murder.
His mother Khadija Sonko believes gun crime is worsening in the city due to a code of silence among teenage gangs.
She spoke out after figures revealed a sharp rise in gun crime in Merseyside.
Mrs Sonko, who works for a homelessness charity, told BBC Inside Out North West: "We need to come together and we need to fight this and we need to speak to our children. We need to say this is no good, this is not allowed."
She said the family lived in hope that someone out there has information that will help catch her son's killers - but only if they decide to come forward.
"If you really know about what happened to Yusuf, I'm sure somebody knows, please, please go tell police. And see justice done for Yusuf."
Speaking during a recent community march in memory of Yusuf, his sister Abby said: "If you know your child was there, encourage them to do the right thing and go to the police.
"Forget that 'no grass' culture. You need to speak up."
Father Papa Sonko said: "You don't have to be scared because the police are not stupid to give your name publicly to let the killers know you.
"Go out today, do the right thing, tell the police what you know.
"[Gun crime] will continue until we all come together to say you enough is enough. Let's try and stop these guns on the street. Let's make the children believe there is a better life for them."
Merseyside shooting deaths in 2017
Thomas Baker died after he was found with gunshot wounds at Stanley Meat Market in Old Swan, Liverpool, in January
Aaron Lewis was shot shot dead outside a chip shop in the Toxteth area of of the city in February
Yusuf Sonko died after being shot in a street in June, also in Toxteth
James Meadows died after he was shot in the head while riding pillion on a motorbike in Huyton earlier this month
Yusuf was found shot in Tagus Street, Toxteth, on the evening of 2 June.
Described as "polite, kind and humble", he was due to sit his final A-level exam and had hoped to study business at university.
Detectives believe he may have been inadvertently caught up in a dispute between rival groups.
However, he was not thought to have been personally involved and his father says officers told him he was "in the wrong place at the wrong time".
A 21-year-old man and 17-year-old boy were arrested on suspicion of murder but later released while the investigation continues.
Merseyside Police recorded 91 shootings over the 2016-17 financial year. These resulted in 34 injuries and four deaths, with a further two deaths since April this year.
The previous 12 months saw 61 shootings and two deaths.
The force also said it had recovered 74 firearms believed to be linked to crime so far in 2017, which has doubled from the 37 found over the same period last year.
In total, the region has seen 31 shooting-related deaths over the past decade, with numbers generally fluctuating from year to year.
Stuart Kirby, professor of policing and criminal investigation at the University of Central Lancashire, said the so-called "no grass" culture had been passed through "generations and generations".
He said there could be a "stigma" attached to informing on people within communities, and it was very difficult for people to come forward because they faced living with that stigma "for years to come".
"Even if they left the area, their family and friends would get the ramifications," he said.
"It can be implicit intimidation - people hanging around outside your house and anonymous calls. Or it can be explicit threats when you leave the house. Sometimes children are approached."
James Riley, was a Liverpool probation officer for 18 years specialising in organised crime. He now delivers an educational programme in schools.
He believes children need to learn from an early age that the stigma of not informing on criminals is wrong.
With this in mind, his Get Away 'N' Get Safe Gangs Prevention Programme aims to change the language commonly used by teenagers.
"You've got young people who are using this word 'grass' and 'snitch' and I'm trying to challenge attitude and that culture," he said.
"I say to young people that the brave person speaks up. If nobody spoke up, it means that our streets are becoming more dangerous."
This year marks 10 years since 11-year-old Rhys Jones was killed in Liverpool in Liverpool in one of the country's most notorious shootings.
This was a murder that did prompt many informants to come forward, including 12 people who all contacted the BBC's Crimewatch programme and gave the same name.
Killer Sean Mercer was later jailed for life following a nine-week murder trial.
However, Merseyside Police Det Ch Supt Chris Green said the shooting had not led to a reduction in gun crime in the city.
"It should have been a watershed moment," he said. "But there are still people in this city who are only too prepared to pick up a gun and then use it.
"For me the statistics only tell part of the story, really, because actually one firearms discharge is one too many. That is the mantra we go by. We want to reduce that number to zero."
Prof Kirby said he believed police now had a "greater understanding" about the reluctance of some people to provide information.
The Crimestoppers charity, which allows people to contact detectives anonymously, was "invaluable", he said.
The case of Rhys Jones was a positive example of a time when the public stood up and said "enough is enough" and did help the police.
He added: "The more people who do come forward makes it is easier for others to do the same. It is so important if the community can challenge things."
Inside Out North West is on Monday 30 October at 19.30 BST on BBC One in the North West and later on BBC iPlayer for 30 days