Dewa Roman Experience museum objects to Chester council bin plan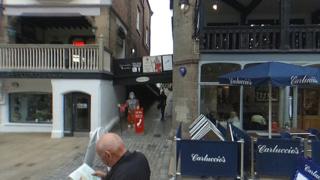 A city museum has claimed its visitor numbers could be hit if a proposed new bin store is sited near its entrance.
The Dewa Roman Experience on Pierpoint Lane in Chester said the new space could attract vermin and the smell from refuse may put people off visiting.
Cheshire West and Chester Council said the scheme had "significant local support".
Museum supervisor Christine Turner said an appeal against putting the store near its doors would be submitted.
She said the museum had suggested an alternative site for the store, which will be used by local restaurants, adding that a number of other bins nearby had not been maintained properly.
Councillor Louise Gittins said options in the area were "extremely limited" and the creation of the store would "provide a real alternative".
She said the council had received "28 letters of support" for the scheme and "many of the businesses have welcomed the opportunity to secure space in a dedicated and managed off-street waste storage facility".
She added that the council would address all concerns and ensure "there is a robust and effective plan in place".