Las Vegas shootings: British soldiers speak of 'chaos'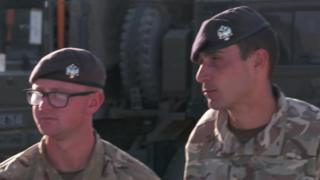 Three British soldiers praised by the prime minister for helping victims of the Las Vegas massacre have spoken of the "pandemonium" they faced.
Troopers Chris May, Stuart Finlay and Ross Woodward abandoned a birthday meal when Stephen Paddock started shooting from a nearby hotel on Sunday.
They helped treat victims after at least 58 people were killed and nearly 500 injured in less than 10 minutes.
Trooper Finlay, from Cheshire, said he was "trying to do what I thought best".
He had been doing training in California as part of the 1st The Queen's Dragoon Guards regiment before he took leave with Troopers Woodward and May to celebrate his 25th birthday in the city.
The three of them had been in the Tropicana, a hotel which faces the Mandalay Bay Hotel where Paddock was shooting from, and initially thought they were hearing fireworks, before recognising the sound as gunfire.
They then ran to the area between the two hotels, where up to 500 people had also been injured, and split up to help casualties.
Trooper Woodward, from Nottingham, said he came across a man in his 30s who had been shot in his lower back and was struggling to breathe.
"I did everything I could to help him... minutes later, there was no response from the gentleman at all - I checked his pulse and realised he had passed away."
Trooper Woodward also helped at least three other victims, adding: "It was just chaos and pandemonium, there was panic everywhere.
"We were trying to get civilians that had frozen out of just pure fear and shock - that were standing in the street - it was getting them out of the way of the shooting so it was important to try and get them all in a safe location."
Trooper May, from Littlehampton, said: "I've never seen people as scared as what they were - just trying to climb over people, just trying to get out of the way."
Trooper Finlay, from Ellesmere Port, recalled finding a woman who had been shot in the lower back.
He said he used towels and a T-shirt to apply pressure to the wound, adding: "While I was treating this young lady, another woman had come who was shot in the leg so I tried to elevate her leg to stop the bleed and try and carry on dealing with the other woman."
Their actions earned praise from Theresa May, who thanked them earlier this week for their efforts.
Trooper Finlay said: "At the time I wasn't really thinking, I was just trying to do what I thought was best and that was helping people get to safety or treating injuries."
His father Kev said he was "panicking inside, fearing the worst" when he heard about the biggest shooting in modern US history.
"When I couldn't get in touch with him, my head was all over the place. Once I found out what he did, I can't describe the feeling of pride and so much relief," he said.