Dog finds a home after decade in Liverpool shelter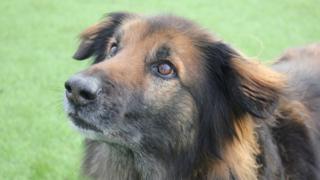 A dog which has spent most of his 10 years living in an animal shelter has finally found a new home.
German shepherd Floyd was the longest-staying resident at Freshfields Animal Rescue in Liverpool but has now moved in with one of the shelter's dog walkers.
For years, Floyd found interacting with people very stressful after a traumatic start to his life, Freshfields said.
But the charity said Floyd was now "safe and happy" in his new home.
It took years before Floyd trusted the staff at Freshfields because he had come from a home where he was living in a yard and tormented by children throwing stones at him.
Freshfields, which rehomed 122 dogs last year, said while some animals only stay a few weeks, and most are homed within months, others can stay for years.
Manager Helen Stanbury said: "Unfortunately, stories like Floyd's are all too familiar to us.
"The challenges of working with dogs who have suffered neglect and abuse takes an emotional toll on our dedicated staff on the front line."