Fracking plans for Cheshire submitted by IGas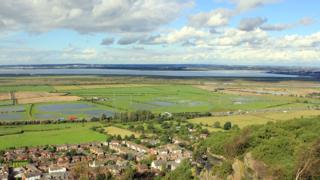 An energy firm has submitted plans to frack for shale gas in Cheshire.
IGas has applied to drill a test well to fracture underground rocks to release gas at a site in Grinsome Road on Ince Marshes near Elton and Helsby.
John Blaymires, from the company, said the site was chosen because of its "proud industrial heritage".
Cheshire West and Cheshire Council will consider the county's first fracking application which campaigners said was "incredibly concerning".
Hydraulic fracturing, or fracking, is the process of drilling down into the earth before a high-pressure water mixture is directed at the rock to release the gas inside.
IGas has started applying for planning permission to drill a temporary well both vertically and horizontally, a process which is expected to yield more gas.
Seismic testing of the ground was conducted in the surrounding area for IGas in 2016, despite protests led by local anti-fracking campaign groups.
Much of Ince Marshes is designated as a Site of Biological Importance by the council, meaning the site has planning protections.
Adrienne Baines from Frack Free Helsby said: "We are in no doubt that the intention is to develop fracking on a significant scale in this area of Cheshire.
"If these plans go ahead communities in this area will not be immune to the considerable increase in traffic from HGV movements, risk of water and land contamination, further reduction in air quality, and the irrevocable industrialisation of the surrounding countryside."
IGas' site is close to a collection of energy projects known as the Protos "energy hub", as well as major industrial areas at Runcorn and Ellesmere Port.
The British Geological Survey announced in September that Ince Marshes would be the site of a new national research centre which will monitor the effects of shale gas extraction.
Mr Blaymires said: "There are a number of significant employers in the area whose businesses rely on gas, which is something that we could potentially supply in the future, directly from the area."