Violet-Grace Youens: Father calls sentence extension 'a joke'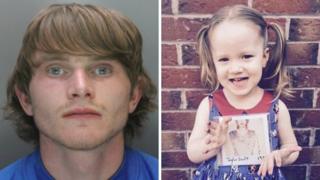 The father of a four-year-old girl who was mown down in a hit and run has branded her killer's 10-day sentence extension "a joke".
Aidan McAteer hit Violet-Grace Youens in a stolen car driven at 80mph in a 30mph zone, in St Helens, on 24 March.
He had his sentence increased for uploading social media posts from inside prison.
Violet-Grace's father Glenn Youens branded the extension to McAteer's original nine-year sentence "a joke".
In the summer, McAteer marked his 24th birthday by posting an image of a card online.
At the time, the Ministry of Justice (MoJ) said his sentence had been extended but did not reveal the length of the increase.
'Completely unacceptable'
Mr Youens said 10 days extra "is not going to faze" Violet-Grace's killer.
"The judge gave McAteer 10 days extra, meaning he'll still serve less time than Violet was alive," he said.
"Does the MoJ think an extra 10 days will bother him?
"He'll just laugh at an extra 10 days while he's setting up his new Instagram page."
Breaches of prison rules are dealt with by prison governors and, when deemed serious, independent adjudicators are asked to hear cases which can result in prisoners receiving additional time in custody.
A maximum of 42 days can be added per breach of rules.
A Prison Service Spokesperson said McAteer's behaviour is "completely unacceptable".
"We are clear that those who break the rules will be punished and can face extra time behind bars."
McAteer was given jail sentence of nine years and four months after pleading guilty to causing death by dangerous driving.
The prison service said McAteer will be eligible for release in December 2021.