Wirral couple 'let dog suffer' over ban prosecution fear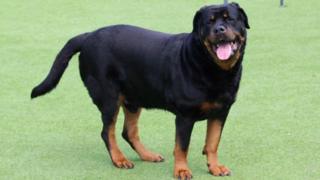 A couple who left their dog in "immense pain" because they were scared of being prosecuted for owning it have admitted causing it unnecessary suffering.
Wirral's Anthony and Sally Makin were banned from having animals in 2015 but were later found with a rottweiler.
The 42-year-olds had not walked the dog or taken it for treatment for the cancer it developed, the RSPCA said.
They were handed a 12-month community order by Wirral magistrates and banned from keeping animals for five years.
The couple, of Dale Avenue in Bromborough, admitted having had the dog, called Sky, for seven months before it was found by RSPCA inspectors.
The dog was found to have an "inoperable" and "notoriously painful" bone tumour in its leg, which the Makins had diagnosed as arthritis, and was "drastically overweight" with overgrown claws, a spokesman for the animal charity said.
He added that the dog, which RSPCA staff renamed Maximus, was "put on pain relief" to be given "as long as possible", but was later euthanised.