Teddy Tilston death: Toddler was subject to 'extreme violence'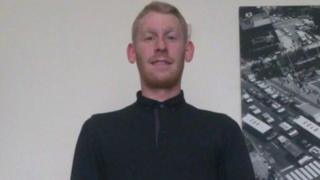 A toddler died after being being subjected to "extreme violence" by his mother's boyfriend, a court has heard.
Craig Smith, 28, is accused of inflicting fatal injuries on Teddy Tilston, two, before concocting a "bogus and dishonest story of a drowning".
Paramedics arrived at the toddler's home in Birkenhead to find him completely unresponsive, Liverpool Crown Court heard.
Mr Smith, 28, denies Teddy's murder.
He further denies causing actual bodily harm to the boy's twin sister.
Jurors were told Mr Smith, the partner of Teddy's mother Ashleigh Willett, claimed the toddler drowned in the bath, despite being completely dry when ambulance staff saw him.
On 1 March, prosecutor Nicholas Johnson QC, told the court paramedics arrived at the couple's home in Woodville Road to find Teddy lying on the floor in a nappy and vest.
He displayed no signs of life and had bruises to his head, ear, upper lip, neck, jaw, abdomen and back, he said.
A brain injury caused by lack of oxygen suggested he had survived at least 30 minutes after being injured, the court heard.
Frightened scream
Mr Johnson said a post-mortem examination concluded the fatal injury was an internal tear to tissues joining the wall of Teddy's abdomen, likely to have been caused by abuse.
He said: "The bottom line was that Teddy did not drown. He was punched or kicked in the abdomen."
Mr Smith called 999 at 14:25 GMT and told the operator Teddy was not breathing and had been in the bath and swallowed water.
Mr Johnson said only Mr Smith knew "the precise circumstances" leading up to the call.
"The prosecution say that he has never told the truth about them - and the reason for his failure to be truthful is that he used extreme violence on Teddy and has tried to cover that up with the bogus and dishonest story of a drowning."
Shortly before 14:00 that day dog walker Alison Lamb described hearing the "frightened scream of a child" as she walked past the house.
On the day of Teddy's death, the court heard, Ms Willett, 25, took his twin to hospital while Mr Smith stayed at home with Teddy.
She told medics the little girl had injured herself after running into a table - but hospital staff decided to kept the child in after noticing other bruises.
She was found to have other, unexplained injuries when examined by doctors, including a broken wrist which she may have received up to six months earlier, the court heard.
Mr Johnson told jurors it was "inconceivable" the twins' injuries could have gone unnoticed by the couple.
"Both were responsible for the children and neither did anything," he said.
The trial continues.