Wirral man banned from keeping dogs after punching and kicking his pet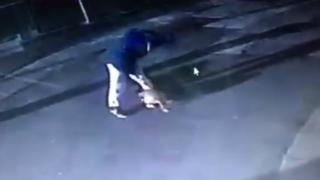 A man who punched and kicked his Staffordshire bull terrier in the street in a "fit of anger" has been banned from keeping dogs for a year.
Carl Gallimore, 32, pleaded guilty at Sefton Magistrates' Court in Merseyside to cruelty to his pets.
Kiya and Gallimore's other dog, Kane, have been taken into RSPCA care.
The charity said Kiya was "very lucky" not to have suffered any serious injuries in the attack, which happened in Moreton, Wirral on 5 October 2016.
Gallimore, of Pasture Avenue, punched Kiya to the ground and then knelt on her before again striking her, the RSPCA said.
He continued to attack her as he was walking away.
The RSPCA launched an investigation to find the person responsible after members of the public reported the attack.
A warrant was executed a week later by the RSPCA and the police at Gallimore's home and the dogs were removed.
RSPCA inspector Anthony Joynes said Gallimore told him he had attacked his dog in a "fit of anger" because she had slipped out of her lead and ran towards a guide dog.
"When I interviewed him, he admitted he hit her and that he did so too hard. He also said in the interview that he loved his dogs and that they were his life," Joynes said.
Gallimore was also given a 12-month community order and a £50 fine as well as being ordered to pay costs and a victim surcharge.