Liverpool's 'growing culture' of begging puts rough sleepers at risk, report finds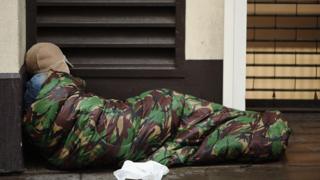 A "growing culture" of begging is putting Liverpool's rough sleepers at risk, a report has found.
The report, commissioned by the mayor's office, said while the city had very few rough sleepers, other people were using "the cover of public sympathy" they provided to beg for money.
It also said outreach work may be "inadvertently" supporting people to choose to sleep on the street.
The deputy mayor said those using rough sleepers "as a cover" must be tackled.
Ann O'Byrne added that those people, who were begging to support drug or alcohol addictions, "impact not just on the warmth and generosity of our city, but also place rough sleepers at a greater risk of harm".
A Liverpool City Council spokesman said that was because rough sleepers were "very exposed" and so more susceptible to environmental and physical abuse.
'Doing well'
Rough sleepers are defined as people bedding down in the open air or in buildings or places not designed for habitation, such as car parks, sheds and cars.
The Routes out of Rough Sleeping report found Liverpool had an average of 21 rough sleepers in 2016, six more than the previous year, and the number was growing.
It cited substance addiction and poor mental health as the main causes of the issue.
The report recommended a "community good practice plan" to make support more effective, adding that while outreach work was "welcomed", it needed "proper co-ordination", as it could "inadvertently" support rough sleeping.
It also called for a change to the benefits system relating to non-British people, as the current policy was "fundamental to creating rather than resolving" the issue.
In response, a Home Office spokesman said there were "important safeguards in place to ensure vulnerable migrants, who are destitute and have community care needs, receive support".
"We work closely with local authorities to address and resolve cases of those migrants whom we have a duty to protect and support," he added.
Beggars 'put rough sleepers at risk'
One of the report's authors, John Finnigan, said in general, Liverpool was "doing well in supporting rough sleepers" and had a low number compared to other major English cities, but "more could and should be done".
The council spokesman said part of the authority's £11m annual spend on homelessness was focused on rough sleeping and a "concerted" approach was needed to tackle the issues raised.
Michelle Langan, from homelessness charity The Paper Cup Project, said the comments about outreach work were disappointing.
She said being told "we're enabling a bad lifestyle is offensive" as many "wouldn't get any help at all [without us]".