Liverpool Biennial to host Ryan Gander and Agnes Varda shows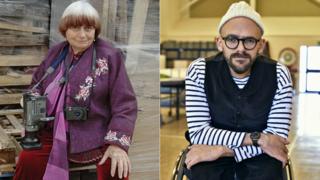 Works by conceptual artist Ryan Gander and octogenarian film-maker Agnes Varda are among the shows for next year's Liverpool Biennial.
The contemporary art festival will look at "social, political and economic turmoil", director Sally Tallant said revealing the list of 36 artists.
She said the festival, now in its 10th year, titled Beautiful World, Where Are You? would be "an important moment".
The three-month festival opens at venues across the city on 14 July 2018.
Gander, who was made an OBE in January for his services to the arts, is regarded as one of Britain's most acclaimed contemporary artists, while Varda's six decade career has seen her called the "mother of the French New Wave" and she became the first female director to be awarded an honorary Oscar.
Other contributors to the festival include Nigerian photographer George Osodi, Russian visual artist Taus Makhacheva, Polish painter and sculptor Paulina Olowska and Bangladeshi performance artist Reetu Sattar.
A spokeswoman for the event said more artists would be announced in the coming months, along with the Biennial Fringe programme.
She said that the title came from a 1788 poem by Friedrich Schiller, which was set to music by Franz Schubert in 1819.
"The years between [the two] saw great upheaval and profound change in Europe," she said.
"Today the poem continues to suggest a world gripped by deep uncertainty.
"It can be seen as a lament but also as an invitation to reconsider our past."