Former Coventry ambulance manager raped Wirral girl, 12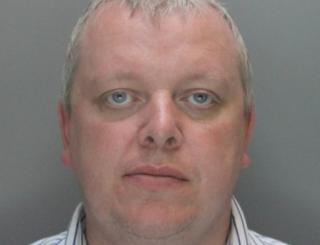 A former ambulance service manager who admitted raping a 12-year-old girl has been jailed.
Adrian Crowe, from Coventry, groomed his victim on an internet chatroom before meeting and raping her in Wirral, Merseyside, in June.
The 40-year-old, from Coventry, had online exchanges with other youngsters in which he gave his age and asked one girl: "Are you legal or jail bait?"
He was jailed for eight years at Liverpool Crown Court.
Judge Alan Conrad QC described Crowe, who worked for West Midlands Ambulance Service, as a "sexual predator" saying the case represented "what must be every parent's worst nightmare".
He said: "This vulnerable girl was enticed to meet you and it must have been obvious - having seen her photograph and still further meeting her face to face - she was of an age where she could not properly consent to sex."
Martine Snowdon, prosecuting, told the court that Crowe, from Kirkdale Road, exchanged flirtatious and sexually explicit messages during the week leading up to their meeting.
The victim also sent him photographs of herself and referred to being at school.
When interviewed by police, Crowe said she had claimed to be 17.
'Extreme gravity'
On 19 June, he went to meet her in Wirral where they had sex in a field.
Miss Snowdon said the victim "feels guilty, embarrassed and confused".
Crowe, who appeared via video link from prison, accepted the offences were of "extreme gravity".
The court heard he had a high-pressured job and had been on high dose anti-depressants for many years, but being suddenly taken off them seemed to have affected his personality.
The judge imposed an extra 12 months licence on Crowe, ordered him to sign the sex offenders register for life and imposed an indefinite sexual harm prevention order.
West Midlands Ambulance Service said in a statement it "fully supported" the "tough" sentence handed down in this "horrific" case.
It said Crowe was suspended on the day of his arrest but he subsequently resigned from his non-clinical role of emergency preparedness manager.