Policeman snooped on ex-wife using work computer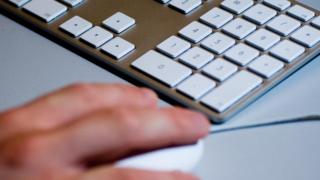 A policeman who used a work computer system to snoop on his ex-wife, his girlfriend and their families, has been given a suspended jail sentence.
Grant McCabe, 43, admitted misusing Merseyside Police's Niche computer system for non-policing purposes.
The officer, currently suspended, also made searches on the former partners of his ex-wife and his girlfriend, Liverpool Crown Court heard.
He has been given a nine-months jail term, suspended for two years.
The PC, who served 15 years in the force, is due to appear at a police misconduct hearing, Merseyside Police said.
'Stupid mistake'
The Crown Prosecution Service (CPS) said the officer, from Moss Hey, Birkenhead, pleaded guilty to seven data protection offences and seven counts of computer misuse.
Checks on his computer use from 2007 to 2016 revealed illegal searches related to his "personal circumstances", the CPS added.
He also made illegal searches on himself.
Senior crown prosecutor Richard Riley said: "Merseyside Police regulations state that no-one must search Niche for 'non-policing purposes'."
He said a warning appears at the start of any Niche session "so there is no doubt that McCabe would have been aware that what he was doing was illegal".
The PC told the force's data control officers he made the searches "out of curiosity" and "made a stupid mistake", the CPS said.
He was also ordered to do 200 hours of community service and was given an electronically-monitored curfew for six months.