Relocating Liverpool Women's Hospital is 'most appropriate' option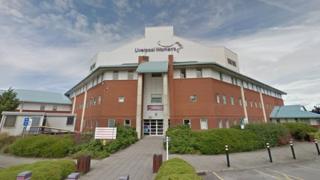 Moving a specialist women's hospital alongside a nearby institution is the "most appropriate" option for its future, a report has concluded.
An independent panel's review of four options for Liverpool Women's Hospital said moving next to the Royal Liverpool was also the "most sustainable".
The hospital's trust said if approved, it would aim to make the move by 2022.
A petition calling for services to remain on the existing site has received over 41,000 signatures.
The Northern England Clinical Senate report looked into two possible relocations - one alongside the Royal Liverpool Hospital and the other to a site near Alder Hey Children's Hospital - or two different upgrades of the existing buildings in Toxteth.
'Cannot stand still'
Opened by Diana Princess of Wales in 1995, the hospital provides maternity, gynaecology, reproductive, genetic and neo-natal services.
The panel said the "most appropriate and sustainable" of four options proposed by the trust was to relocate to a new building linked to the Royal by a covered bridge.
Patients could then have immediate access to adult intensive care or other specialist acute services rather than facing an ambulance journey as they do at present.
Dr Chris Grant of Liverpool Clinical Commissioning Group (LCCG) said the future of the Toxteth site had had "never been under threat [but] we cannot stand still", adding that the existing buildings would be used for different services following the proposed move.
Felicity Dowling, from the Save Liverpool Women's Hospital group, said the plans were a "vanity project" and she was worried about traffic and pollution at the proposed site.
An LCCG spokesman said a public consultation on the move next to the Royal Liverpool "could start as soon as late 2017".