Solicitor admits drink-driving and is banned for three years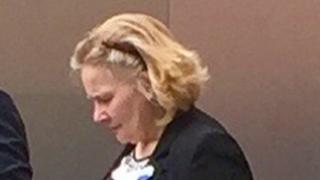 A solicitor who specialises in motoring law broke down in tears after admitting drink-driving for a second time.
Helen Dugdale was spotted "zig-zagging" down a busy road in Birkenhead, Merseyside on 29 June before crashing into a kerb.
The 48-year-old, of Hornby Lane in Allerton, Liverpool pleaded guilty at Manchester Magistrates' Court.
Weeping, she told magistrates, who handed her a three-year driving ban: "I wish I could turn the clock back."
The court heard Dugdale's previous drink-driving conviction was in October 2013, resulting in an 18-month ban.
She initially pleaded not guilty to the latest offence and had been due to stand trial next week. However, she changed her plea.
Dugdale was seen by taxi driver Peter Cannon as she struggled to control the Honda Jazz at about 17:55 BST in Conway Street.
Joseph O'Connor, prosecuting, said police found her "slumped in the seat", unable to hold her head up, and slurring.
"The road was busy and pedestrians were around," he added.
"It was lucky that no-one was hit by the car."
Dugdale was arrested and taken to a police station where a breath test revealed she was nearly twice the legal limit.
She told magistrates: "I wish I could turn the clock back... it is not going to happen again. I am having therapy and it is working very well."
Thomas Keen, defending, said she had a couple of glasses of wine the previous night following an upsetting personal incident which would have sent anyone "over the edge".
The next day she met a friend and had "a top-up" but did not think she was over the limit.
In addition to the three-year driving ban, chairman of the bench Richard Lenderyou fined Dugdale £650 and ordered her to pay £315 costs.