New Year's Day stabbing: Life-saving passer-by praised by judge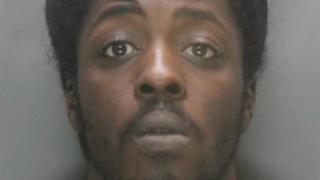 A passer-by who saved the life of a stranger who had been stabbed in a brawl has been commended by a judge.
Michael Harrison came across Callum Dunne, who had been caught up in a group of men fighting, in the early hours of New Year's Day in Liverpool.
He applied pressure to the severed leg artery of the victim, who had also been stabbed in the chest, before a police officer arrived to help.
Joseph Adepetun, 21, from Toxteth, has been jailed for 12 years for wounding.
At Liverpool Crown Court, Mr Harrison was given a reward for his actions in St Peter's Square.
Judge Louise Brandon also praised PC Deborah Cashin, the first police officer on the scene, who applied a makeshift tourniquet from a belt while waiting for further assistance.
She later said she thought Mr Dunne was going to die as his face was ashen, his eyes were rolling and he had lost an enormous amount of blood.
'Tremendous blood loss'
A unit of armed police who had had more first aid training then took over the battle to save Mr Dunne until paramedics arrived and took him to hospital.
Mr Dunne still needs regular physiotherapy, the Crown Prosecution Service (CPS) said.
Richard Riley, of the CPS, said there was "no doubt" that the actions of Mr Harrison and PC Cashin "prevented a dangerous situation becoming a tragedy".
"The amount of blood he'd lost by the severing of the femoral artery was said to be tremendous," he added.
"They both realised that it was key to slow down the flow of blood from the wound - yet Mr Harrison had no medical training at all and PC Cashin just basic first aid.
"People who go into the city's night-time scene armed with knives are clearly prepared to use them and Adepetun is now facing the consequences."