Bolton railway station bridge collapse: Reopening date announced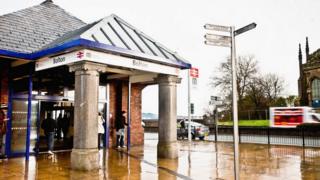 Bolton railway station, which was shut when a burst water main caused a bridge to collapse, is due to reopen.
The line between Bolton and Manchester will run again from Wednesday when repairs to the Moses Gate railway bridge will be completed, Network Rail said.
The station had been due to reopen on 28 August but the rupture caused a further delay.
Bus replacement services will continue until the reopening.
Bolton station had already been closed for weeks for electrification work between Manchester and Preston.
Andy Morgan from Network Rail said: "We continue to work with Bolton Council, Transport for Greater Manchester and United Utilities to safely finish the repairs and I thank passengers and local people for their ongoing patience."
The changes at Bolton station are part of the Great North Rail Project, which will see more than £1bn spent on changes across the northern England rail network by 2022.
The rail works included the restoration of an unused platform and the installation of overhead line equipment and new footbridge.