Mersey Gateway Bridge: Warning over scam toll website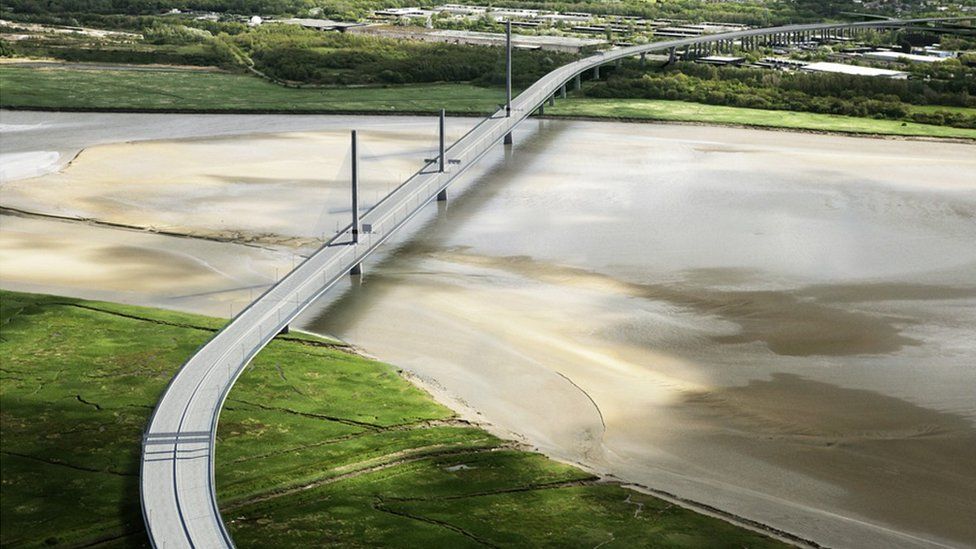 Motorists who want to use a new bridge over the River Mersey have been warned not to be fooled by a fake website.
Most drivers will have to pay tolls on the landmark Mersey Gateway Bridge, which is due to open this autumn between Runcorn and Widnes in Cheshire.
However Merseyflow - the official tolling system for the bridge - says a fake website and phone number has been set up to con people.
It said it had reported the scam to police.
Anthony Alicastro, chief executive of Merseyflow, said the firm "will take whatever action we can to shut them down".
"We'd hate anyone to fall victim to these criminals."
"The team has now reported the fake site and number to the police, who have urged everyone to be vigilant of scammers," a Merseyflow spokesperson added.
People who have been caught out by the scam have been urged to contact Action Fraud - the UK's fraud and cyber crime reporting centre.
It is hoped the new six-lane bridge will ease congestion on the existing Silver Jubilee Bridge nearby
Mersey Gateway's free-flow system means there will be no toll booths on the route
Technology that can read number plates will be used to collect payments
Drivers can still cross both bridges without registering but will have to pay the full £2 toll fee per crossing, with extra charges for larger vehicles
A Merseyflow spokesperson said registration was the only way to get discounts or free travel.
Drivers are advised to apply "as early as possible" on the official Merseyflow website or phone number ahead of an expected last-minute rush before the autumn opening.
A registration service will also be operated at the Halton Direct Link on Brook Street, Widnes, until the end of August.
More than 17,000 vehicles have been registered officially so far.
Once the Mersey Gateway opens, the Silver Jubilee Bridge will be closed to vehicles for nearly 12 months for refurbishment, but it will remain open to pedestrians and cyclists.
Related Internet Links
The BBC is not responsible for the content of external sites.