Fantasy fans head to Liverpool's Comic Con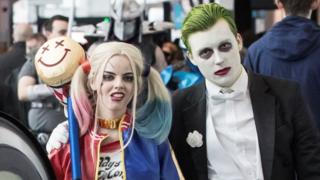 Thousands of fantasy fans have descended on Liverpool for the city's Comic Con dressed as their favourite characters.
The weekend-long event celebrates films, gaming, comics, anime and TV.
Celebrities attending the show at the Exhibition Centre include Flash Gordon's Sam J. Jones.
David Soul, Paul Michael Glaser and Antonio Fargas from Starsky and Hutch are also there with their famous car - the bright red Ford Gran Torino.
Chris Barrie and Danny John-Jules from Red Dwarf and Dr Who's Peter Davidson are also making guest appearances.