Liverpool social care may not exist in 2019, resigning boss warns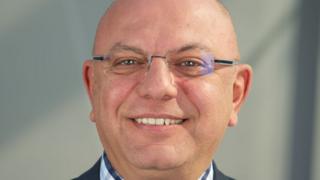 A social care boss has announced his resignation with a warning that funding cuts have left the service "in crisis".
Samih Kalakeche, who leaves Liverpool City Council in April, told the Observer social services "will not exist" by 2019 unless changes are made.
Council figures show adult social care spending has been cut by £92m since 2010 while demand has risen 15%.
The government said funding until 2020 will allow the council "to deliver the services local people want".
A spokesman for the Department for Communities and Local Government said: "Our long-term funding settlement means Liverpool City Council will have nearly £1.7bn to spend between now and 2020."
"We've also just announced an extra £900m for social care in England, meaning councils will have a total of £7.6bn to spend over four years."
'Transformed services'
Mr Kalakeche, who has worked for Liverpool City Council for seven years, said he was resigning as director of social care for a number of reasons, including a desire to go travelling.
He said that unless drastic action is taken in the next six months, the city council will not be able to fulfil its social care statutory obligations by 2018-19.
He said people were "struggling" and "suffering", adding: "We're really only seeing the tip of the iceberg."
According to its own figures, Liverpool City Council funds 3,500 people in care homes and provides home care for 11,000 people annually.
Demand for adult social care assessments has risen from 18,000 to 21,000 per year since 2010, but its adult social care expenditure dropped by £92m to £130m in the same period.
Liverpool Mayor Joe Anderson said that while he shared Mr Kalakeche's "anxiety" and "understands his concern", he does not believe the authority will be unable to provide social services in the coming years.
He added that Mr Kalakeche was "one of the most hard-working and dedicated" directors at the council and had "transformed services despite the challenges that we faced".