Liverpool Metropolitan Cathedral golden anniversary events revealed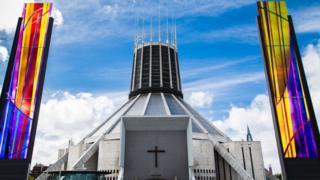 A series of events have been announced to mark the 50th anniversary of Liverpool's iconic Catholic cathedral.
The Metropolitan Cathedral of Christ the King, colloquially known as Paddy's Wigwam, will mark its golden jubilee with celebrations starting in May.
Events include an anniversary Mass on 4 June celebrated by Crosby-born Cardinal Vincent Nichols, the leader of Roman Catholics in England and Wales.
More than 350,000 visitors visit the cathedral each year.
Other events include a floral tribute, a golden jubilee dinner, and the first performance of a musical piece which was commissioned but not finished in time for the cathedral's consecration in 1967.
The long-awaited Liverpool Mass - by electronic music pioneer Pierre Henry - will finally be performed at the Bluecoat arts centre.
Canon Anthony O'Brien, Dean of the Cathedral, said: "This will be a very special year in the life of our cathedral as we mark this golden milestone of our history in a building that means so much to so many people."
Metropolitan milestones
14 May 1967: Consecration and opening of the cathedral on the feast of Pentecost
5 June 1977: The Queen visits the cathedral during her silver jubilee trip to Liverpool
30 May 1982: Pope John Paul II celebrates Mass after travelling down Hope Street from the Anglican Cathedral
16 April 1989: More than 3,000 people pack the cathedral on the day after the Hillsborough disaster. At least 6,000 attend an extra service on the piazza outside
---