Penketh fire station hoses and cutting equipment stolen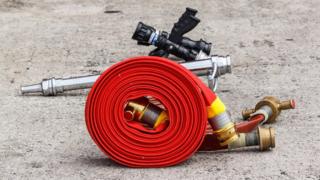 Thieves have "put lives at risk" by stealing two hoses and cutting equipment during a break-in at a fire station, a fire officer has said.
Burglars broke in through a shutter door at Penketh Fire Station in Warrington before making off with the equipment between Friday and Sunday.
Cheshire Police have launched an investigation following the burglary
Station manager Tony O'Dwyer said the thieves were "putting the lives of the community at risk".
"The equipment stolen is used in rescuing casualties trapped in vehicles involved in road traffic collisions and is vital life-saving equipment," he added.
He said alongside the cutting equipment and two 10m hydraulic hoses, the thieves also took a generator.