Flood-hit villages' Croston and Whalley 'better prepared'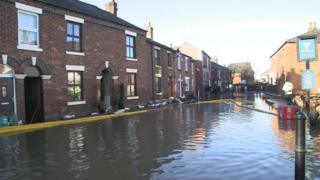 Residents of two villages hit by heavy flooding on Boxing Day 2015 believe they are better prepared this year.
A new £7m flood defence scheme is now operating to protect Croston, Lancashire, a year after floods devastated the village.
And in Whalley, local people have formed their own flood defence team to mobilise for any future emergency.
Across the county the Environment Agency has embarked on a £120m flood protection programme.
'Water held back'
Homes had to be evacuated in Croston last year when the River Douglas and River Yarrow reached high levels.
But the new flood barrier, a mile away from the village on the River Yarrow, is providing improved protection for 246 houses and 192 businesses.
"We were pleased that the scheme was up and running for Christmas," said Dan Bond of the Environment Agency.
"If we get a forecast of rain we are able to close the gates and the water will be held back by creating a reservoir."
Jon Lilley, whose pub The Wheatsheaf was hit by flooding for the second time in three years, paid tribute to the locals who turned up the day after the floods.
"We had a lot of volunteers and in the end we had to turn people away and say there are other people in the area who need help."
The Wheatsheaf is now restored but Mr Lilley had to raise the £11,000 repair bill himself because of a £10,000 insurance excess.
"In one way it was good as we got it repaired quicker," he said.
In Whalley, where a torrent washed through homes on Boxing Day 2015, a flood action group formed in April has set up flood wardens to act as first responders with special flood kits for emergencies.
The team works in collaboration with their local council and the Environment Agency.
"People should sign up with the flood group and we will help anybody," said founder member Gillian Darbyshire.
"Going forward we're working with the Environment Agency for a long term flood defence which should slow the flow. And we are working towards long and medium term solutions as well - having a plan in case it happens again," she said.