Dead dog found inside a plastic bag in a Birkenhead bin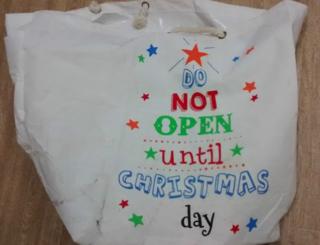 A dead dog has been found dumped in a plastic bag decorated with the words "do not open until Christmas day".
The RSPCA said a member of the public found the bag containing the shih tzu in their green bin on Eastview Close in Prenton, Birkenhead, on Tuesday.
The female dog had suffered a broken neck, a broken leg, had extensive bruising, a prolapsed eye and multiple puncture wounds to her lower jaw and legs.
The RSPCA is appealing for information.
Also in the bag was an extra-extra-large pink hoodie with "Discover Life Club" on the front and a strip of red carpet.
RSPCA inspector Anthony Joynes said: "The injuries don't appear to be consistent with her being hit by a car.
"I am keen to find out what has happened in this little dog's final moments as it is clear she must have suffered immensely. I would urge anyone with any information to come forward."
The dog was microchipped but the microchip had not been registered, Mr Joynes said.