Liverpool murder lookout teenager must serve sentence, judge rules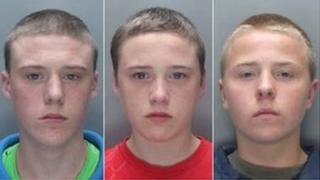 A teenager who was the lookout as his brother and friend murdered a homeless man for a dare must complete his minimum jail term, a judge has ruled.
Brandon Doran was 14 when he was detained for at least six years for his part in Kevin Bennett's murder outside a Liverpool supermarket in August 2012.
Mr Bennett, 54, was sleeping rough outside Iceland in County Road, Walton, when the youths attacked him.
Doran applied for a cut to his term but it was upheld at the High Court.
'Decent prisoner'
Doran denied the murder but was convicted in April 2013 on the basis he stood watch as his brother Connor, 17, and friend Simon Evans, 14, attacked Mr Bennett.
He applied for a cut to allow an early chance of parole but the sentence was upheld by Justice Maura McGowan.
The judge said his lawyers had argued that he had shown himself to be a "decent prisoner".
However, that was not enough to justify cutting his minimum term, she said.
"Pursuing a review of the tariff is bound to create hope and expectation, especially in a prisoner who is still only 17," she added.
"It can only be hoped that the disappointment that will follow from this refusal does not discourage him.
"He has made some good progress and should continue to work with the prison to prepare him for his future."
The court heard Doran appeared to believe he would be freed at the end of his six-year term whether he did well in prison or not.
But the judge said six years was only the minimum he will serve and he will only be freed at that point if the parole board is convinced he is not a danger.